Monday - Friday 8:00 - 18:00

CONSTRUCTORA TRES NACIONES S.A. DE C.V.


Av. Carretera central 10900-a
Fracc Industrial La Raza
CP 78430
San Luis Potosi S.L.P.
México
Tres Naciones Group
info@tresnaciones.com
52 + 444 834 7410

Industrial Projects
Commercial Projects
Design & Engineering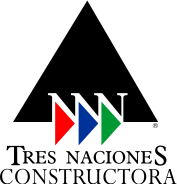 INDUSTRIAL BUILDING AND OFFICES
ARCHITECTURAL DESIGN AND ENGINEERING PROYECT:
TOTAL PROJECT AREA 175,743 m2 16,333 sq/ft
CALMAR WUXI, CHINA Project
ADMINISTRACION PORTUARIA INTEGRAL DE MANZANILLO, S.A. de C.V. MANZANILLO COLIMA
PATIO REGULADOR Y LOGISTICO JALIPA
DEVELOPMENT OF THE ARCHITECTURAL DEISGN AND ENGINEERING BID PACKAGE:
Regulatory Yard 60.02 Acres 24.29 Hectares
Logistics Park 135.16 Acres 54.78 Hectares
Total project area 195.18 Acres 79.07 Hectares

MARQUARDT, Project, Iraputato Gto Mexico.
INDUSTRIAL BUILDING OFFICES AND SERVICES
ARCHITECTURAL DESIGN AND ENGINEERING PROYECT
Industrial Building: 111,743 sq/ft 10,385 m2

Production, logistic & technic mezzanine
Office Building: 31,118 sq/ft - 2,892 m2 Two Levels
Total project area - 142,860 sq/ft - 13,277 m2