Monday - Friday 8:00 - 18:00

CONSTRUCTORA TRES NACIONES S.A. DE C.V.


Av. Carretera central 10900-a
Fracc Industrial La Raza
CP 78430
San Luis Potosi S.L.P.
México
Tres Naciones Group
info@tresnaciones.com
52 + 444 834 7410

Industrial Projects
Commercial Projects
Design & Engineering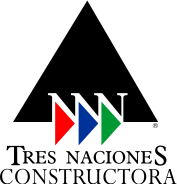 Constructora Tres Naciones
is a full service, design, engineering, and industrial contractor offering all the necessary elements to initiate and complete your construction project.
GENERAL BUILDING
CONSTRUCTOR
What does Tres Naciones offer?
EVERYTHING. From design, engineering, infraestructure, fast track licensing permits, and competitive prices.
INDUSTRIAL CONSTRUCTION
Tres Naciones is versatile construction company that offers specialized services, everything from office buildings to shopping centers.

CITADINA SHOPPING CENTER
COMERCIAL CONSTRUCTION
OTHER SERVICES AVAILABLE
• ARQUITECTURE

• BUILDING DESIGN

• STRUCTURE DESIGN

• INSTALLATION DESIGN

• CIVIL WORKS

• DESIGN OF GARDERING